A rare treat
It is a rare treat that this interview – or any interview – is so well documented. Below you can read an account of the event by interviewer John Maeda. Followed by his afterthoughts some twenty years later. Third is an article about the evening from MIT's newspaper The Tech. Illustrated with some pictures made during the interview.
UPDATE 10 January 2017: Rare video footage of the interview has been found, so tells us Danny Lewandowski, curator of the Paul Rand website. A date is not yet set when the footage will be available to the public.
Paul Rand was a well-known American graphic designer, best known for his corporate logo designs. He was one of the originators of the Swiss Style of graphic design. From 1956 to 1969, and beginning again in 1974, Rand taught design at Yale University in New Haven, Connecticut. Rand was inducted into the New York Art Directors Club Hall of Fame in 1972. He designed many posters and corporate identities, including the logos for IBM, UPS and ABC.
14 November 1996 Paul Rand visited the MIT Media Lab for an interview with John Maeda (Misawa Lecture). John Maeda was a former student and friend of Paul Rand's. He participated in Rand's final interview in front of a packed Bartos Theatre at M.I.T.'s Media Laboratory. In his book, he talks briefly about the evening and excerpts some questions posed to Rand.
---
As a graduate student at M.I.T., I stumbled upon a thin, nondescript book called Thoughts on Design by Paul Rand. At the time I was trying to build a reputation for myself as a graphical user interface designer. But as I flipped through Rand's book, I was humbled by the power with which he manipulated space and the clarity of his prose. I was immediately inspired to pursue the field of graphic design, not necessarily pertaining to the computer.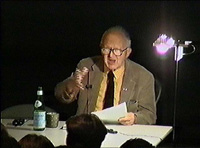 It was fitting that eight years later, I would return to M.I.T. as a professor of design, and that I would host a lecture by Paul Rand at M.I.T. The time for the lecture was set at ten in the morning. An early lecture in American universities is rare because students usually study late into the night and are less apt to attend early events. But Rand insisted that he speak in the morning. He said, "If someone isn't willing to wake up to hear me to speak, I don't want to speak to them!"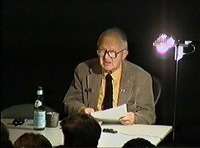 The auditorium was packed beyond capacity with people from all over New England, some waking up as early as five in the morning to arrive in time for the lecture. The Director of the Media Lab, Nicholas Negroponte, later remarked that during his career at M.I.T. he had never seen such an overwhelming audience for a morning lecture. Although the lecture hall was crowded, complete silence reigned as everyone's attention was completely focused on Rand.
The night before the lecture we had dinner together. Afterwards he asked me, "So, what are we going to talk about tomorrow?" My immediate reply was, "We?" He said, "Yes, it's boring if I just get up there and talk. So let's have a conversation first." Following Rand's request, I began with some very basic questions.
PR: I've waited eighty-two years to come to this place. I knew Gyorgy Kepes and Muriel Cooper, but they never invited me. I'm wondering why Mr. Maeda invited me at this late date, but I'll do my best.
JM: What is design?
PR: Design is the method of putting form and content together. Design, just as art, has multiple definitions, there is no single definition. Design can be art. Design can be aesthetics. Design is so simple, that's why it is so complicated.
JM: What is the difference between a designer and an artist?
PR: There is no difference between a designer and an artist. They both work with form and content. I try to create art, whether I make it or not is not up to me, it's up to God.
JM: What is the difference between good design and bad design?
PR: A bad design is irrelevant. It is superficial, pretentious…basically like all the stuff you see out there today.
JM: What are the fundamental skills of a designer?
PR: The fundamental skill is talent. Talent is a rare commodity. It's all intuition. And you can't teach intuition.
JM: Most of your designs have lasted for several decades. What would you say is your secret?
PR: Keeping it simple. Being honest, I mean, completely objective about your work. Working very hard at it.
JM: How did you get started as a young designer?
PR: (raising his eyebrows) I think you should ask instead, "How did I get started as a baby?"
After his lecture, Rand offered autograph copies of his books and there was a line that did not clear up until an hour later. I tried to shuttle him off to a private reception but he refused to leave until all the people in line were signed and served.
His lecture was so well received at M.I.T. that Dean William Mitchell and Negroponte suggested that Rand join the faculty at the Media Lab and we immediately began the process of appointing him. Negroponte wanted me to confirm Rand's interest in joining the Lab, after which we faxed Rand explaining the situation. He replied, "Of course I accept the position." A few days later he passed away.
Published in "Maeda@Media", Universe Press, 2001.
---
Twenty years later John Maeda looks back on the interview, and share some thoughts on Paul Rand:
As I look back now, I realize that this happened exactly twenty years ago. In the meantime, I've often wondered what life would be like for me if Rand hadn't passed away the very same year I joined the faculty at MIT. I might have felt, quite frankly, a little less lost in 1997, and I might have had a chance to learn a lot more about design as Rand practiced it so beautifully and brilliantly.
 Read More

---

The interview was published in John Maeda's book 'Maeda @ Media'. 
What I do know for certain, is that I would never have gotten started on my overall journey if it weren't for Thoughts on Design. It reminds us of a time when data on design's performance couldn't be gathered in real time, back when the intuition of the designer reigned supreme.
As a classic, it's important to frame Thoughts on Design within the context of its initial publication. At that time, multinational corporations were gaining momentum in the world and logos were still scarce, printing techniques were primarily limited to one and two colors, and graphic designers—often called "commercial artists"—were often made to feel a bit insecure. The biggest subtext to note about Paul Rand's era was the largely male-dominated nature of the design profession.
Today, of course, we live in a much different world. But Rand's wit remains timeless, his love for visual play is unparalleled, and his curiosity as a thinker/doer/maker remains an inspiration for us all. The legend of Paul Rand continues, if we let it. I will continue to will it so, and I hope that you do so, too.
Published in Design Observer, 14 November 2016.
---
An account of the same event appeared in 'The Tech'.
Designer Paul Rand Speaks at Media Lab
By Saul Blumenthal
Managing editor
"I try to make art out of commercial stuff," Paul Rand responded when he was asked to describe what he does. And when this "commercial stuff" includes companies like IBM, Westinghouse, Next, and The Limited, it is readily obvious that we're not dealing with just any artist.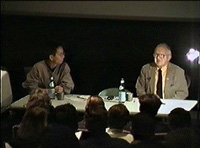 It would probably be hard to find someone who is not familiar with the works of Rand, one of the most influential contemporary graphic designers. His designs have defined the corporate identities of countless companies throughout the world, and yesterday morning, a standing-only crowd at the Media Laboratory got an opportunity to learn more about the individual behind the art.
The talk, entitled "The Language of Art," was sponsored by the Aesthetics and Computation Group of the Media Lab. It was moderated by Assistant Professor of Media Arts and Sciences John Maeda, who heads up the group.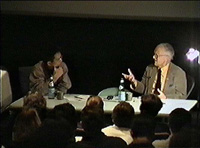 The audience, which consisted of a mix of MIT students and faculty and design students from as far away as Rhode Island and New Hampshire, laughed when the octogenarian Rand started his talk with the observation that he's "waited 82 years to get to this place." Rand used to be a professor at Yale University and currently teaches summer classes there.
The first portion of the talk dealt with the issue of what constitutes design and how it relates to art. "There is fundamentally no difference between the designer and the artist. In dealing with the subject of design, knowledge of the history of art and design is just as indispensable as the language of art."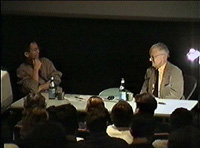 Maeda then asked Rand what he considered design. Rand said that it is very difficult to give a concrete definition. "Design is a method of putting form and content together," though form is more of a determining factor than content, he said. In a handout accompanying the lecture, Rand explained that "form and content are assymetric. Time can, and does, erase meaning of once familiar artifacts, but time can never erase form."
"It is very difficult to talk about art. We talk about rhythm, proportion, etc., but these are subjective," Rand said. In his handout, Rand described how "among the many aspects of form, problems pertaining to the principles of proportion, for example, are significant. The rules of proportion apply equally well to the Parthenon or to a can of Campbell's soup."
Maeda then asked Rand how he got started in design work. The audience chuckled when he paused for a few seconds and then said, "I just designed. [It is] something you do intuitively. You just do it."
The rest of the talk was a narrated slide show, which drew heavily from two books by Rand that were on sale outside the theater – Design Form and Chaos and From Lascaux to Brooklyn. The first set of slides concerned art and design in general, with examples ranging from the Leaning Tower of Pisa to still lifes by Cezanne.
Rand then proceeded to describe the process of developing logos and corporate identities for companies, the work which has contributed most to his fame. He explained how it is critical to have a "client who is receptive." Rand spent a considerable amount of time chronicling the development of the logo for Next and how he worked closely with Steve Jobs during the process.
He characterized the logo finally decided upon as "complete abstraction," and he expressed his amazement at how it appealed to people. In Design Form and Chaos he says, "a black cube has a certain visual presence and is easy to remember."
Other companies whose logos Rand discussed were those for IBM (perhaps his most famous design), UPS, and The Limited, for which he observed that it is important to recognize that every letter but the last consists only of straight segments.
The talk ended at about 11:30 a.m. with an extended round of applause. Rand then held a book signing session in the lobby of the Media Lab. Copies of the poster that was hung throughout campus over the last week were also offered free of charge.
Rand delights audience
Reaction to Rand's talk was overwhelmingly enthusiastic. "Paul Rand is a great inspiration, especially with the design process," said Peter S. Cho '97, one of Maeda's students.
Reed Kram G, one of the members of the Aesthetics and Computation Group, said that the talk was "very informative. It is great to see designers come to MIT." He said that he hoped for more such lectures in the future.
The talk was well attended by students from outside MIT. Brandon Miller, a student at the Rhode Island School of Design, described Rand as a genius and said that the talk was "an incredible opportunity" to hear him talk.
Mensah Moody, a design student from New Hampshire, said Rand "was funny for 82 years and was very inspiring."
Kram said that yesterday's talk was a first step in increasing the prominence of graphic arts and design at MIT. The Aesthetics and Computation Group, which replaced the Visual and Language Workshop, is a relatively new division of the Media Lab.
Kram said that the group "abused the infinite corridor" with posters in an attempt to bring in as many MIT students as possible and that they did not intentionally target students from outside MIT. Many of the oversized posters hung throughout campus were deliberately strategically torn.
This was the first lecture in the new Misawa Lecture Series. More speakers from prominent designers are planned for the future, but Rand said that no specific lectures have been organized yet.